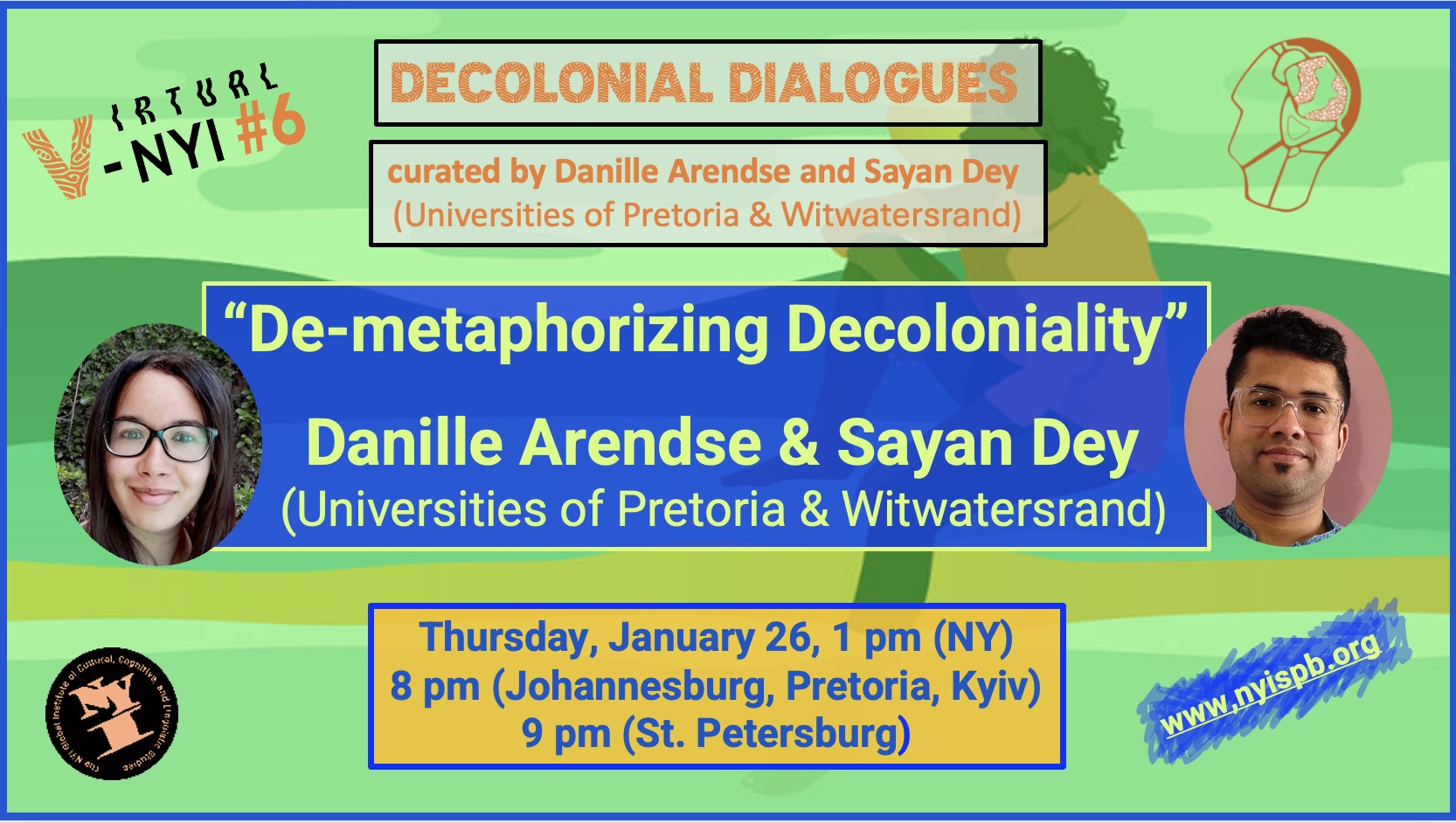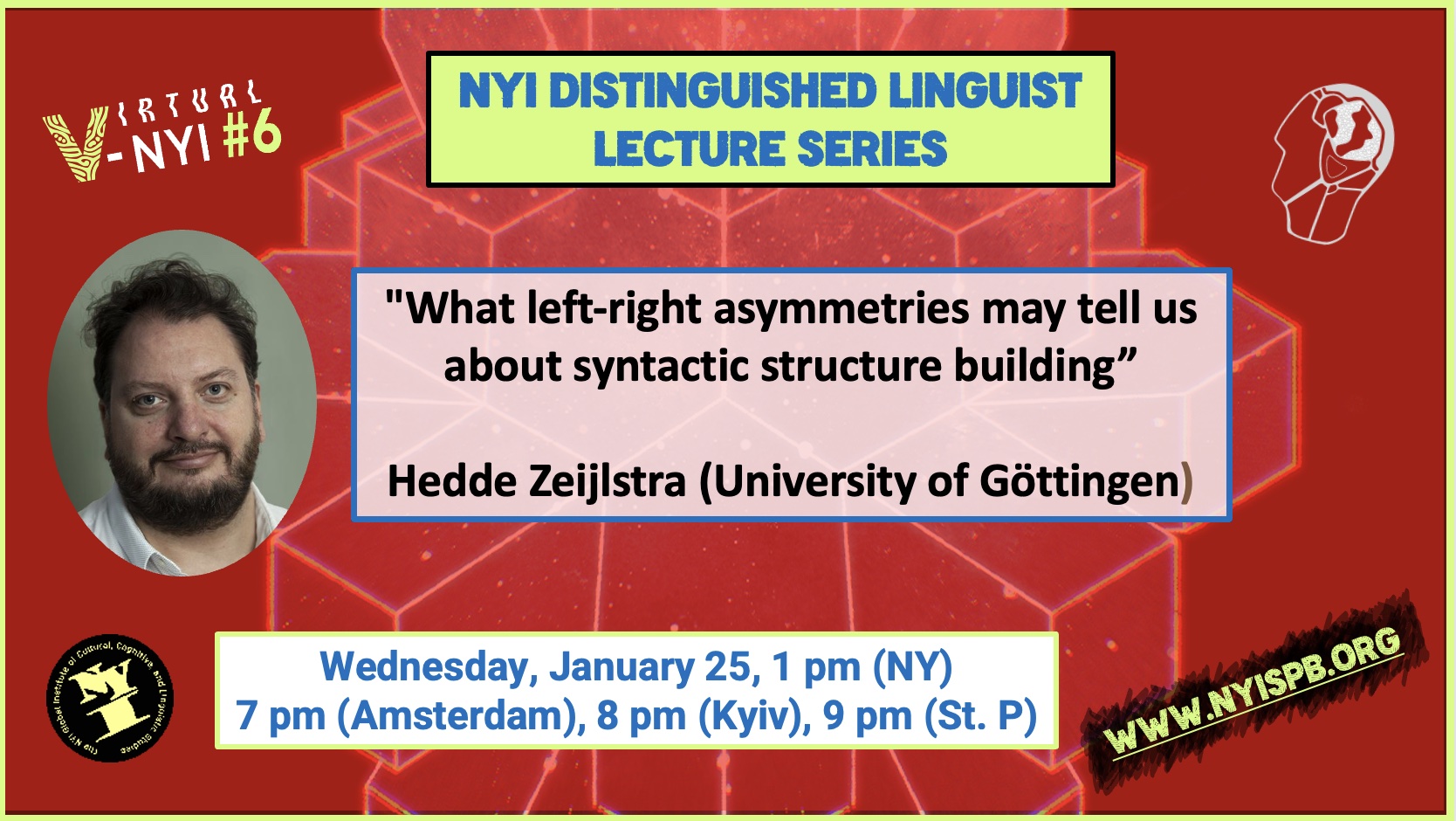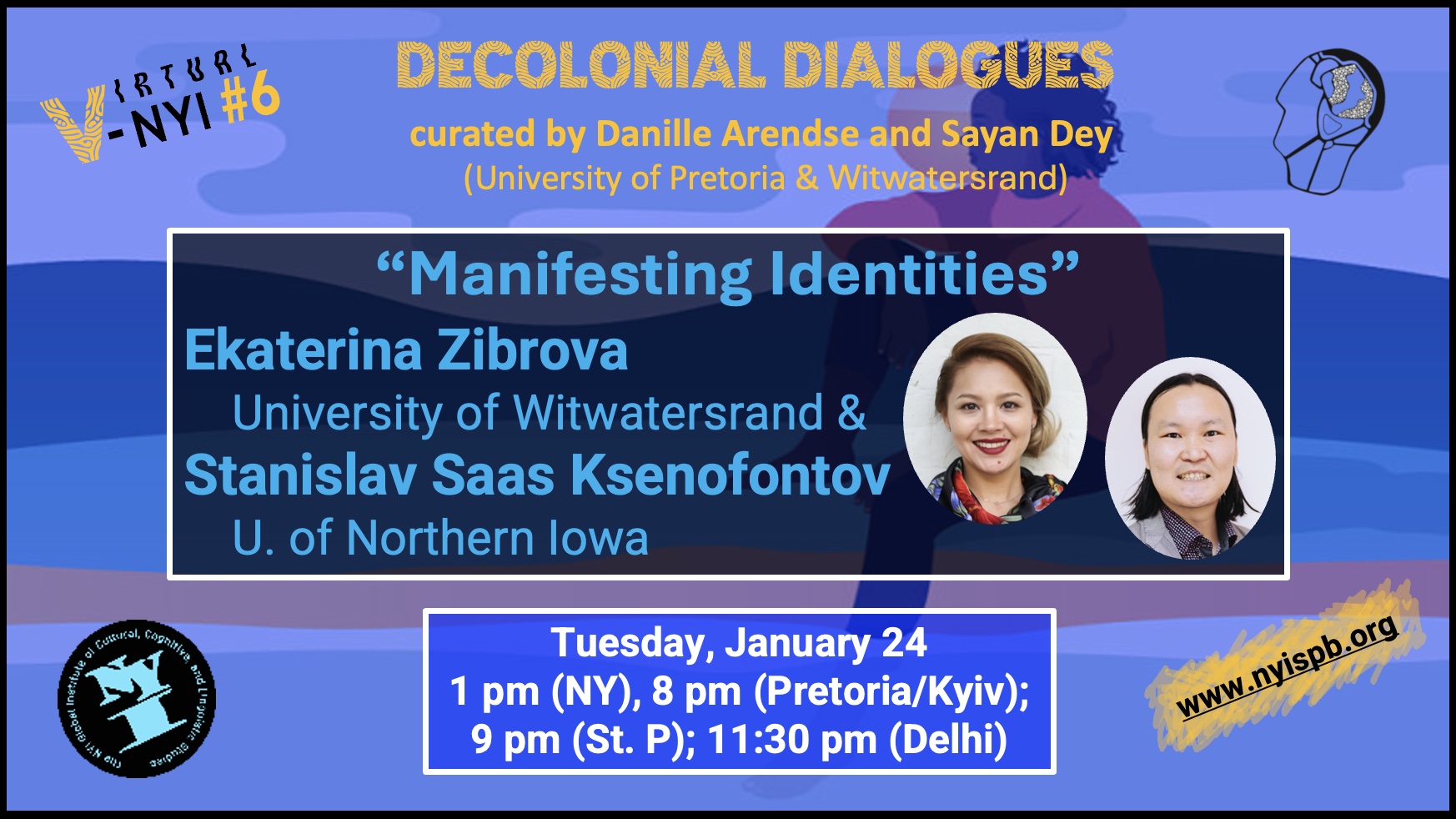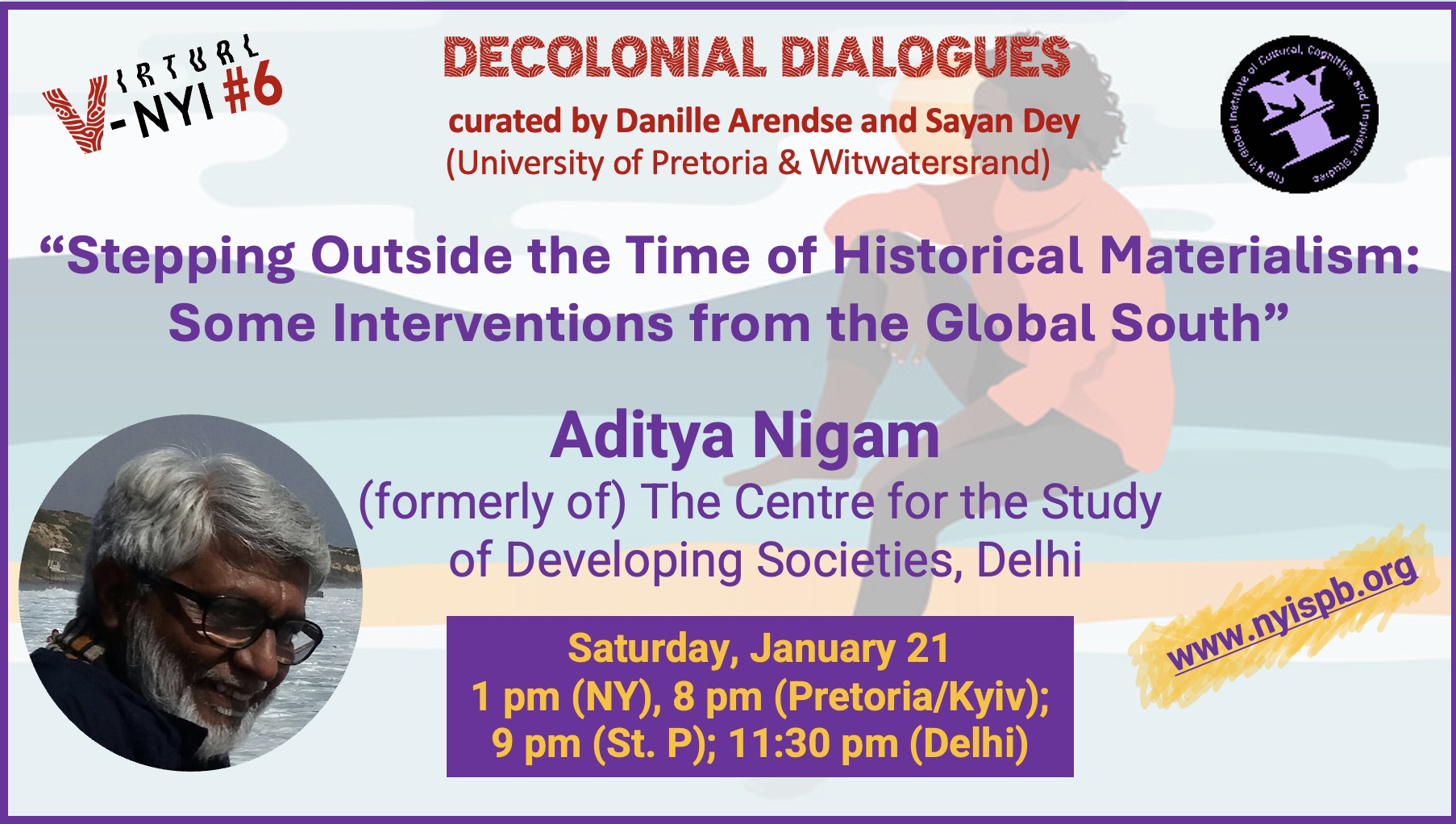 "Talking about Trees" Season Finale"
an Open Discussion with
Marcel den Dikken
(Hungarian academy of Sciences)
Wednesday, December 21
10 am (NY), 4 pm (Warsaw/Budapest), 6 pm (Ankara)
In the Fall 2022 Season Finale of Talking about Trees, participants will hold an opn discussion woth renowned syntactian Marcel den Dikken (Hungarian Academy of Sciences) on a range of syntactic topics, from predication to phase structure to the future of the field.
Talking about Trees poster
All are welcome!
Borders and "Revenge"!
with Ivana Širinić, Berlin
Monday, Dec. 19, 2022, 9 am (NY); 3 pm (Berlin), 7:30 pm (New Delhi)
"Discourse-Free Left Periphery?"
Cihan Başoğlu, Ankara University
Wednesday, December 14
10 am (NY), 4 pm (Warsaw), 6 pm (Ankara)
In the next meeting of Talking about Trees, Cihan Başoğlu, of Ankara University, will lead a discussion of "Discourse-free left periphery" based on Fanselow & Lenertova's 2012 paper "Left peripheral focus: mismatches between syntax and information structure" (posted under Academic Materials)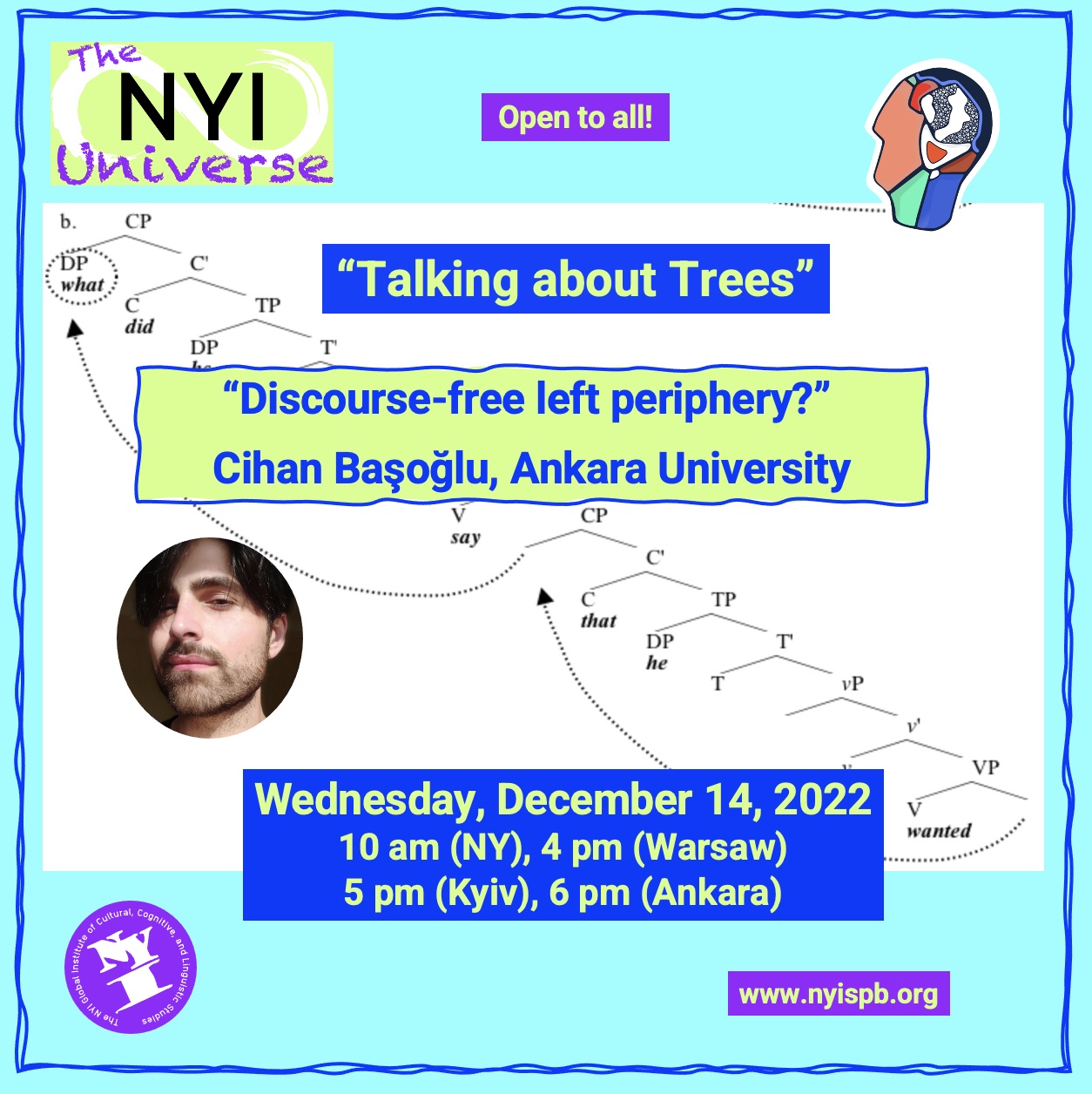 "The discussion will cover Fanselow & Lenertova's 2012 paper, where they argue that information structure plays no role in determining what is fronted to the left periphery of a clause, and they neither figure in determining the locality of fronting nor in any other syntactically relevant aspect of the construction. In their work, movement to the left periphery is triggered by an unspecific edge feature of Comp."
Talking about Trees poster with the link to attend
All are welcome!
"How Many Countries Does the Indus Cross?"
a poetry reading by Akhil Katyal (New Delhi)
Monday, Dec. 11, 2022, 9 am (NY); 3 pm (Berlin), 7:30 pm (New Delhi)
.
In Akhil Katyal's poetry, the Collective recognized a consciousness that is fierce yet elegiac, journeying into the turbulent waters of South Asia's most pressing social and political realities. In poems traversing Kashmir, New Delhi, Lahore, the UK, and the United States,
readers encounter hope and heartbreak as they follow the river-like bends of Katyal's astonishing new collection.
Journalism in Peril
Sat, Dec. 10, 2022:
6 am (LA), 9 am (NY); 2 pm (London), 3 pm (Berlin)
4 pm (Kyiv), 5 pm (St. P), 5:30 pm (Tehran)
7 pm (Dushanbe), 7:30 pm (Delhi), 10 pm (Beijing
hosted by Razvan Sibii, UMass, Amherst
The V-NYI Journalism in Peril series focuses on the lived experiences of journalist-activists in areas of active war, repression or other forms of crisis.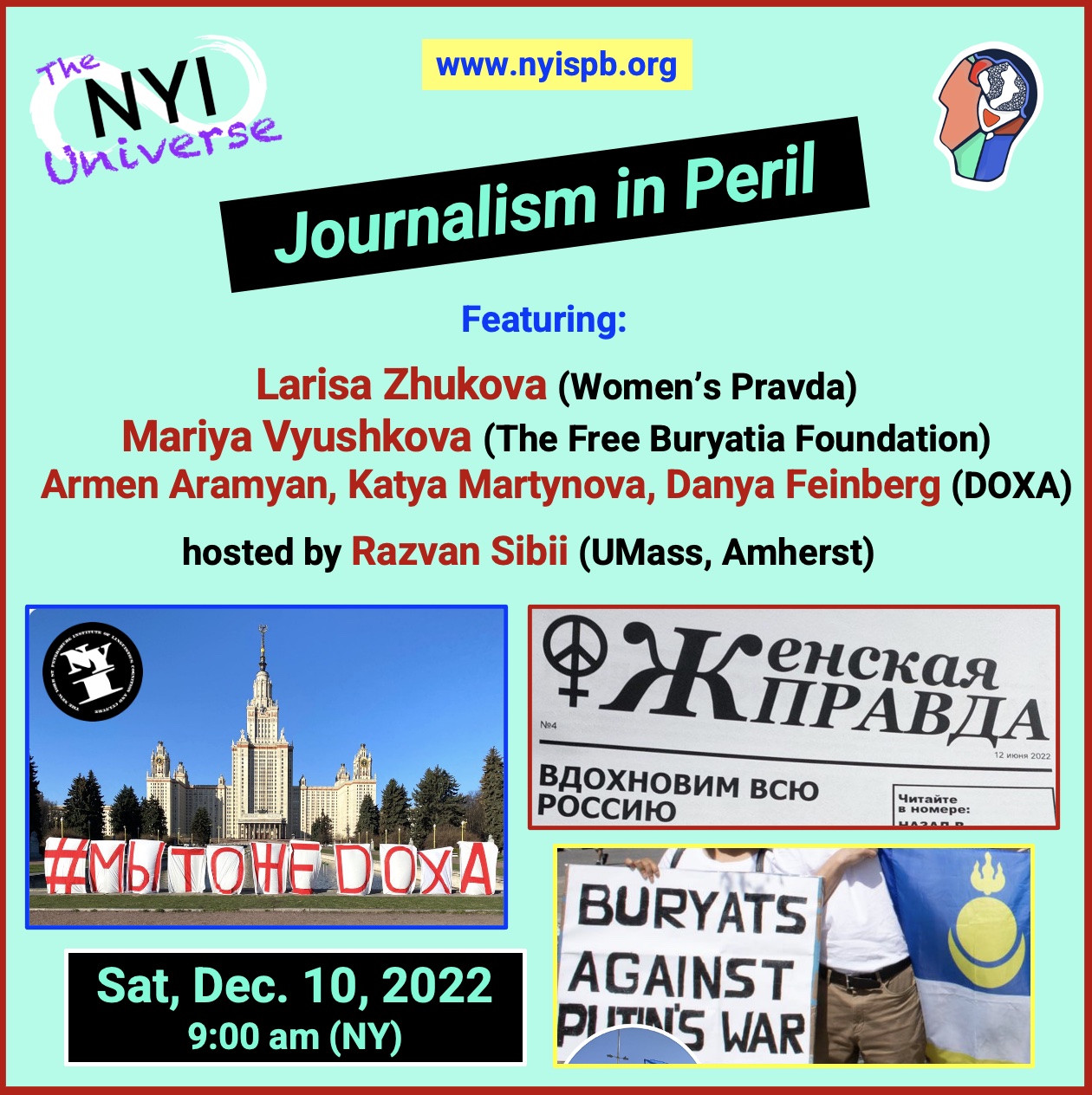 On Saturday Dec.10 (9 am NY), the NYI Universe will host a "Journalism in Peril" panel discussion with activist-journalists from three organizations: Women's Pravda, The Free Buryatia Foundation, and DOXA.
Women's Pravda (Larisa Zhukova)
Zhenskaya Pravda, or "Women's Truth," is a bi-weekly anti-war self-published newspaper released by activists and journalist of the Feminist Anti-war Resistance movement.
The movement was founded in February 2022 to protest the full-scale invasion, and the newspaper has been published since May of the same year. Its main goal is to reach new audiences. Anyone can download and print the newspaper, but readers must be cautious when doing so in Russia.


​
Larisa

​ Zhukova​

is one of the activists and part of the horizontal editorial board.

Free Buryatia Foundation (Maria Vyushkova)
The Free Buryatia Foundation was founded in March of this year by opponents of the war in Buryatia and members of the global Buryats diaspora in response to the 2022 Russian invasion of Ukraine. The organisation's activities include exposing fake reports and propaganda, fighting chauvinism towards Buryats, and conducting anti-war agitation.
Maria Vyushkova is a co-founder of the foundation and the head of its analytical department, where she focuses on the analysis of open-source intelligence to dismantle propaganda and bring a research-based counter narrative.

DOXA (Katya Martynova, Armen Arаmyаn, Danya Faynberg)
DOXA is an independent student magazine founded in 2017 by students at the Higher School of Economics, Moscow. Initially, the publication focused on the problems facing Russian universities, but today it covers a wide range of topics including war, dictatorship, inequality, and the climate crisis. In addition, DOXA releases useful materials on how to cope with the everyday consequences of disasters. The goal is to provide access to the information necessary for action.
Katya Martynova, Armen Arаmyаn, Danya Faynberg are editors and journalists of the magazine, which adheres to a horizontal editorial policy.
"Structure and order in Kîîtharaka and in UG"
Wednesday, Nov. 23, 2022, 10 am (NY); 3 pm (London), 4 pm (CET), 5 pm (Kyiv)
Klaus Abels, University College London
Decoloniality and Food
Saturday, Nov. 19, 2022, 10 am (NY); 4 pm (CET), 5 pm (Pretoria)
Sayan Dey, University of Witwatersrand and Rozena Maart, University of KwaZulu Natal
Please welcome Phuong Pham for the 3rd session of "Writing against Borders", reading and discussing her work "Drowning Dragon on Burning Plain"
Monday, November 14, 9 am (NY), 10 pm (Bali)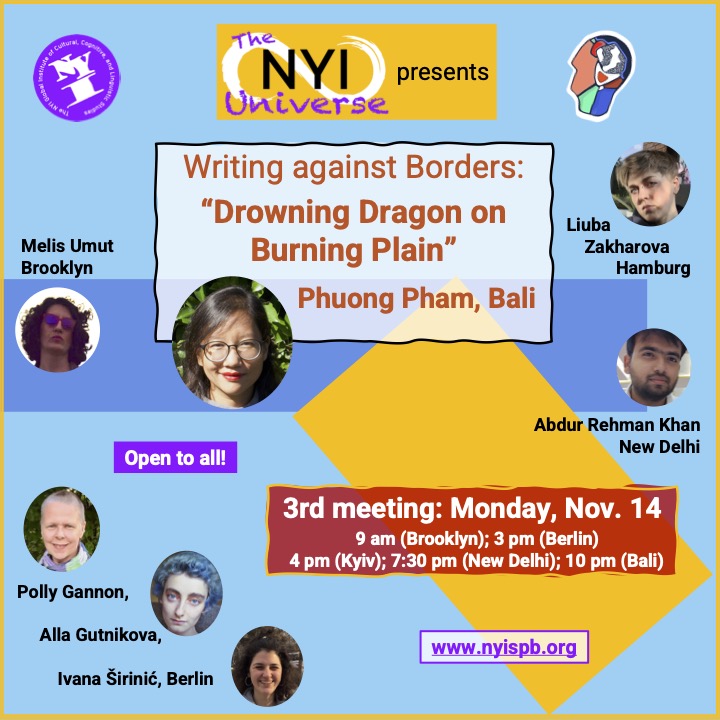 NYI Linguistic Frontiers Series
Saturday, Nov. 12, 2022, 10 am (Cambridge, MA); 4 pm (Vienna)
"The Sound of Trees"
Norvin Richards, MIT
A long tradition in generative syntax holds that syntax is "phonology-free" (Zwicky 1969, Zwicky and Pullum 1986); syntactic operations are supposed to be blind to facts about phonology.
I will try to illustrate some of the advantages of allowing syntax to make more reference to phonology than is commonly assumed. In particular, we'll consider ways of deriving the distribution of classic EPP effects (requirements that TP have a specifier) and Head-Final Filter effects (Williams 1982: this is the condition that rules out expressions like "a [proud of her daughter] woman" in many but not all languages), both from conditions on how syntactic representations are to be converted into phonological ones.
"Arboreal Containment"
Susi Wurmbrand, University of Vienna and Harvard University
Most accounts of clause structure agree on the the broad ordering of clausal domains, which can be formulated as a kind of extended projection from V(P), to T(P), to C(P). More fine-grained building blocks, however, vary greatly across accounts and most likely also languages. Although the question of why clause structure is the way it is is still not fully understood, a promising way to determine and motivate at least certain parts of clause structure is via containment relations—i.e., the definition of domains via inclusion of the meaning of lower domains. This talk will zoom in on various decompositions of the CP domain that have been suggested, and discuss how far containment can be used to predict the order of projections.
NYI Universe Distinguished Lecture Series
"War of Visuals and Russian aggression against Ukraine"
Alina Mozolevska, National Petro Mohyla Black Sea University, Mykolayiv (Ukraine)
Saturday, Nov. 5, 2022, 11 am (NY); 4 pm (CET); 5 pm (Kyiv)
Russia's full-scale invasion of Ukraine that started on February 24, 2022 has led not only to a shift of real and mental borders in Europe, but also drives profound changes of Ukrainian mentality and national identity and geopolitical visions of the contemporary world. The fight with the aggressor generates a reshaping of the image of the other, new narratives are being created and new national heroes are being constructed in hybrid media space. At the same time, in Russian social media we can observe similar processes of mythologization of the self and demonization of the other. Together with the flows of disinformation and anti-Ukrainian propaganda, they recirculate their own vision of the geopolitical future and past of Ukraine, denying its agency and the right for independence. This paper seeks to explore the visual discourses of war as a space of construction of new reality, and to study the role of visual means in conceptualization of main narratives as well as their potential to provide alternative interpretation of these narratives in Russian and Ukrainian social media. Special focus will be put on the role of historical references in the construction of the visual discourses of war. The data set is composed of more than 1500 visuals collected between February 24 and September 25 in Ukrainian groups on Facebook and Russian groups on Vkontakte.
Alina Mozolevska is a linguist and cultural studies scholar from the National Petro Mohyla Black Sea University in Mykolayiv (Ukraine) where she is an Associate Professor in the Faculty of Philology. Her research interests include Media Studies, Discourse Analysis, Border Studies, and Political Discourse Analysis. She currently holds a guest professorship as Visiting Professor at UniGR-Center for Border Studies, Saarland University (Germany). Her PhD is in Linguistics with a major in Romance Languages from Taras Shevchenko National University in Kyiv, Ukraine (2015).
Writing against Borders with Polly Gannon, Alla Gutnikova, Abdur Rehman Khan, Ivana Širinić, Melis Umut, Liuba Zakharova
Next meeting: Mon Nov. 14, 9 am (NY); 3 pm (CET)
Description: Our seminar will look at the ways we experience, participate in, and refuse border regimes of various kinds, and the ways we cultivate boundaries that hold and protect us. We'll view these matters through the lenses of film, poetry and literature. Some of the issues that we'll discuss: sexualities and the semiotics of textiles, ableism/disability, ageism, migrant justice and carceral regimes, desires and bewilderments, the human and more-than-human world, imperial expansion and the nation state, and, inevitably, war and peace.

Our agenda is emancipatory, anti-carceral, feminist, interdisciplinary, and transformative. And, finally, we endorse and embrace (we hope) a practice of compassionate listening

The seminar will meet Mondays at 3 pm (Central European time) with the first meeting Monday, Oct 31. Participants will be required to attend in person, with cameras on, via zoom, and also attend Saturday Cultural Studies presentations.
Talking about Trees with John Fred Bailyn, Adam Szczegielniak, and NYI Linguistic Stars
Next meeting: Wed Nov. 16, 10 am (NY), 4 pm (Warsaw)
Description: Talking about Trees will look in detail at various approaches to the architectural design of how linguistic expressions (essentially sentences) are mentally constructed, with special focus on recent claims about the universality of extended "fine" projections, such as the left periphery (Rizzi 1997, 2004) and alternatives to such cartographic approaches (Van Craenenbroeck 2009, Larson 2020). We will also examine the critical change from templatic Phrase Structure systems (either PS rules (Chomsky 1957 a.o.) or X'-theory (Jackendoff 1977 and after)) to Bare Phrase Structure (Chomsky 1995, Marantz 1995).

The seminar will consist of several initial sessions setting the background of linguistic cartography and its alternatives, and will then include a series of invited guests who will share their take on phrase structure and its consequences for a full theory of linguistic cognition. We will also discuss Linguistic Frontiers presentations such as the Richards/Wurmbrand talks set for Nov. 12.

The seminar will meet Wednesdays at 11 am (NY time) with the first meeting Wed. Nov 2 at 10 am Participants will be required to attend in person, with cameras on, via zoom, and also attend Saturday Linguistic Frontiers presentations.
Working Groups are weekly continuations of V-NYI Institute seminars
• WG 1: Writing against Borders with Polly Gannon, Alla Gutnikova, Abdur Rehman Khan, Phoung Pham, Ivana Širinić, Melis Umut, and Liuba Zakharova First meeting: Monday, Oct. 31, 10 am (NY)
• WG 2: Talking about Trees with John Fred Bailyn, Adam Szczegielniak, and NYI LInguistics Stars First meeting: Wed. Nov. 2, 10 am (NY)
To attend, visit the NYI Universe schedule, (click here)